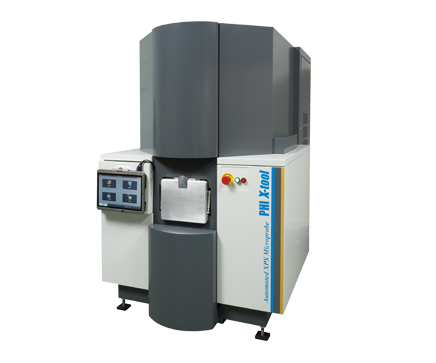 PHI

X-tool
Automated XPS Microprobe
The PHI X-tool is designed to make XPS instrumentation accessible to a larger audience. An intuitive touch screen user interface, automatic sample loading, automatic analysis, and automatic report generation removes the requirement to be a surface analysis expert to perform XPS measurements.
Based on PHI's patented scanning XPS microprobe technology, the X-tool makes it possible for it's users to perform routine small and large area XPS measurements in three easy steps.
PHI's Scanning XPS Microprobe Technology
The electron gun projects a focused raster scanned electron beam onto the aluminum (Al) anode generating a point source of Al x-rays. The ellipsoidal shaped quartz crystal monochromator refocuses the x-ray beam onto the sample. This unique x-ray source provides a micro-focused, raster scanned x-ray beam that enables x-ray induced secondary electron imaging, XPS analysis, and XPS imaging.
US Patent 5,315,113
US Patent 5,444,242
JP Patent 3752252B2
JP Patent 3754696B2
EP Patent 0590308B1
EP Patent 0669635B1
EP Patent 1220280B1
Revolutionary Ease-of-Use
In the automatic mode of operation a turnkey recipe driven analysis capability for repetitive analysis tasks or product monitoring is provided.
In the interactive mode of operation the user can define analysis conditions and guide an interactive research or failure analysis oriented analysis session. Analysis capabilities include: small and large area spectroscopy, XPS mapping, and sputter depth profiling. An internal optical microscope and x-ray beam induced secondary electron imaging are available to guide the selection of areas for analysis.
Automatic Analysis and Report Generation
Whether data is collected in the automatic mode or the interactive mode of operation, automatic report generation capability is available.
MultiPak Data Reduction Software
Data Reduction for XPS and AES
PHI MultiPak is the most comprehensive data reduction and interpretation software package available for electron spectroscopy. The tasks of spectral peak identification, extracting chemical state information, quantification, and detection limit enhancement are addressed with an array of powerful and easy-to-use software tools for spectra, line scans, images and sputter depth profiles. MultiPak can be used on the instrument PC to process data in real time or on an off line PC for report generation.
Advanced Data Reduction Tools
Auto peak identification
XPS chemical state database
XPS spectral deconvolution
Quantitative analysis
Non-linear least squares fitting
Linear least squares fitting
Target factor analysis
Retrospective chemical imaging
Batch mode data processing
18725 Lake Drive East,
Chanhassen, MN 55317
© 2021 Physical Electronics, Inc. (PHI)
All Rights Reserved.
© 2021 Physical Electronics, Inc. (PHI)
All Rights Reserved.