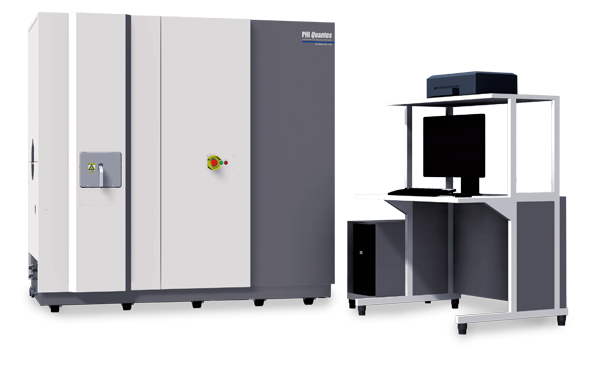 PHI Quantes
Scanning XPS/HAXPES Microprobe
The PHI Quantes is the only commercially available automated, high-throughput lab-based HAXPES spectrometer. It is a unique scanning X-ray photoelectron microprobe that combines a high energy (HAXPES) monochromatic X-ray source (Chromium Kα) with a conventional monochromatic soft X-ray source (Aluminum Kα). Both sources are high flux focused X-ray beams that can be scanned across the sample surface and can be used to define analysis points, areas, lines, and maps with 100% confidence.
The analytical information depth using the Cr X-ray source is about 3 times deeper than with the Al X-ray source. This opens opportunities for probing thicker film structures and buried interfaces, as well as minimizing the effects of surface contamination and ion-induced chemical damage during depth profiling.
Bring HAXPES synchrotron capabilities into your lab with the PHI Quantes!
Features of the Quantes
Automated high-throughput lab-based Hard/Soft X-ray Photoelectron Spectroscopy System

XPS/HAXPES microprobe with ≤ 7.5 µm  spatial resolution for Al X-rays and < 14 µm for Cr X-rays

High sensitivity electrostatic detection optics
Dual beam charge neutralization
Robotic sample handling
Automated 5-axis stage
Two internal sample parking stations
Accepts samples up to 100 mm diameter and 25 mm thick
High performance floating column Ar ion gun
High speed snapshot depth profiling mode
Multipoint depth profiling within a single crater
Quantitative chemical state mapping
Automated angle dependent profiles
Optional Features
Sample Positioning Station
Dedicated turbopump for Ar ion gun
Hot/Cold introduction and stage
Ambient or hot/cold special platen with extra electrical contacts for in-situ electrochemical experiments
Auxiliary chamber for sample transfer to/from external instruments and glove boxes

 

Dual in situ monoatomic/GCIB sputtering gun with gas cluster measurement and tuning tool 
Glove box adapter for introduction chamber
Benefits of a Hard X-Ray Source
The Cr X-ray source has a photon energy of 5414.7 eV and provides for depths of analysis roughly 3 times those obtained using an Al X-ray source. This allows for:
Analysis of buried layers and interfaces deeper than traditional XPS
Si 2p high-resolution spectra obtained using Al and Cr X-Ray sources from a 25 nm SiO2 /Si sample. The signal from the Si metal substrate is detected in the spectrum obtained using the Cr source due to the larger information depth with respect to the Al source.
Decreased effect of chemical state damage induced by ion sputtering

Using the Cr X-ray source, quantitative depth profiles can be reliably obtained from ion-beam sensitive materials.
Deeper sampling depth using the Cr source allows one to probe beyond the depth of possible damage induced by ion sputtering.
A combination of Al and Cr data in depth profiles provides information on the extent of the damage.
Depth profile through a Pt overlayer on TiO2 using 500 eV Ar+. The Ti oxide spectrum obtained using the Al X-ray source shows clear damage, while the Ti oxide spectrum using the Cr X-ray source shows no sign of damage.
Reduced effect of surface contamination
An example of reduced sensitivity of Cr-based spectral data to adventitious contamination is demonstrated in the Figure below where two surveys from a contaminated vanadium substrate are overlaid.  The zoom-in into the C 1s binding energy region shows a much higher relative intensity in the Al X-ray data source vs the Cr X-ray survey.
Alkα and Crkα surveys from staineless steel sample are overlaid. The zoom-in into C 1s binding energy region shows a much higher relative intensity in Alkα vs Crkα survey. 
Access to additional transitions of higher binding energy for complementary chemical information and interpretation
Overlaid survey spectra of Ag foil collected with Al and Cr X-rays.  Due to the higher photon energy of Cr X-rays, multiple higher binding energy transitions become available.
Benefits of Lab-based HAXPES over Synchrotron HAXPES
Efficient charge neutralization for insulating and semiconducting samples
Fast screening tool for experiment development before time and cost intensive synchrotron beam line testing
Fully versatile automation of switching between Al and Cr sources (approximately 1 minute switchover time) and robust X-ray spectrometer using both soft and hard X-ray sources
High throughput spectrometer with all data acquisition capabilities for both X-ray sources
Full automation of sample manipulation and data acquisition
Large sample mount with 2 additional parking positions
Efficient charge neutralization: left - high-resolution C 1s from PET shows excellent chemical state separation using both sources; right – XPS and HAXPES Si 2p and O 1s from SiO2 overlaid showing the symmetrical shape and similar width of spectra.
Quantification using theoretical relative sensitivity factors for reference bulk materials using low and high binding energy transitions.
Benefits of Combining XPS with HAXPES
Collecting spectra from the same sample using both Al Kα and Cr Kα X-ray sources demonstrates the ability to shift Auger transitions and clearly resolve overlapped photoelectron lines.
In the survey spectrum obtained from a stainless steel sample with Al X-rays (blue trace), the Fe and O Auger transitions overlap with photoelectron  lines. Using the Cr X-ray source (red trace) the Auger peaks are shifted and  the photoelectron lines can be resolved. Of note: Because of the larger analysis volume of HAXPES, the C 1s peak is much smaller in the HAXPES spectrum, compared to the XPS spectrum.
Chemical information from both surface (XPS) and near-surface (HAXPES) depths can be obtained without ion beam sputtering.
High-resolution Fe 2p and Cr 2p spectra using Al (blue) and Cr (red) X-ray sources show oxidation at the surface and a mixture of oxides and metals at deeper depths.
The Quantes is based on proven reliable Quantera technology offering all automation and data capabilities for both XPS and HAXPES.
SEM-like XPS/HAXPES Scanning Microprobe Technology
The PHI Quantes is used much like an SEM when characterizing heterogeneous materials. Navigation using live SXI images enables identification of areas of interest, whether it is a defect, contamination or homogeneous area on the sample.
The use of the same optics for SXIs and photoelectron analysis using either the Al or Cr source guarantees that spectroscopic data is collected from the selected feature of interest. This unique capability facilitates 100% confidence in location of features of interest for analysis.
Similar to operating an SEM/EDS, X-ray induced secondary electron images (SXIs) are used on the PHI Quantes for real-time location of features of interest and selection of points/areas of analysis. The focused Al or Cr X-ray beam can be used to define single or multiple analysis points, areas, lines, and maps.
High Performance Large and Small Area Spectroscopy
The X-ray sources are tunable from sub-7.5 µm for Al Kα and 14 µm for Cr Kα to 200 µm or more in diameter. When combined with the open-lens analyzer design, detection efficiency is maximized and X-ray dose for analysis is minimized.
Both X-ray sources are aligned to the same focal point of the electron energy analyzer, enabling same area analysis using either XPS or HAXPES, thus providing chemical information from small or large areas at different sample depths.
This unique instrument also provides high-performance large area analysis capability. Large area analysis is achieved using a mode analogous to a rotating anode, providing high sensitivity and high energy resolution for analysis areas up to 1.4 mm wide.
Using the SXI, an analysis point is defined on the Sn solder ball and is analyzed with a 20 µm diameter Cr or Al Kα X-ray beam. The HAXPES data shows a higher percentage of metallic Sn than the XPS data and no Si is detected on the solder ball. This is consistent with the formation of surface oxides on the solder ball. Efficient charge neutralization for micro-analysis is observed.
Non-Destructive Thin Film Depth Profile Analysis
Angle-dependent measurements using both X-ray sources are fully automated for non-sputter depth profile analysis of thin films.
Angle-dependent HAXPES probes thicker layers and minimizes the influence of carbon contamination overlayer on angular profiles.
Angle-dependent profiles of 5 nm and 15 nm thick Al2O3/SiO2/Si by Al Kα and Cr Kα X-rays. Profiles of the two samples measured with Al Kα are similar to each other, due to the shallow depth of analysis. Profiles measured using Cr Kα are markedly different from each other, since the increased depth of analysis of Cr Kα allows for the analysis of the complete layer structure.
Sputter Depth Profile Analysis
Dual micro-focused X-ray sources, automated dual beam charge neutralization, compucentric Zalar rotation, multipoint micro-area depth profiling within a single crater and advanced data reduction algorithms provide the highest performance XPS depth profiling capability available.
Low voltage monoatomic Ar is efficient for depth profiling of ultra thin films and multilayered structures.
Optional Gas Cluster Ion Beam (GCIB) extends application of depth profiling to organic materials as well as for efficient cleaning of surface contamination.  Depth profiling using the Cr X-ray source provides damage-free interface and buried layer analysis.
500 eV Ar+ depth profile from a multilayered coating on glass. The monoatomic Ar ion beam energy can be selected from 250eV to 5keV.
Multilayered solar cell with both organic and inorganic layers on glass. Switching between 1 keV Ar+ and GCIB sputter beams allows fast profiling through >300 nm of  mixed material, preserving the chemistry of the organic layer.
Patented Dual Beam Charge Neutralization
Traditional electron flood gun charge neutralization is not effective in neutralizing the localized positive charge created by the X-ray beam because the sample's static charge interferes with the low energy electron beam.
PHI's patented dual beam charge neutralization is a reliable and hands-free method that uses a low energy ion beam to eliminate the sample's static charge allowing the low energy electron beam to reach the sample and neutralize the localized positive charge created by the X-ray beam.
Integrated High Throughput Automation
Fully Integrated Surface Analysis Instrument
SmartSoft instrument control software offers an intuitive and simple work flow
SmartSoft-XPS Data Acquisition Software
Whether you are a casual user or an expert, the work flow driven UI and enhanced feature set will increase your productivity.
Intuitive single window user interface
Session tabs guide you through the analysis process
Integrated sample platen management
Point and click analysis area definition on saved images
User friendly queuing of multiple analysis tasks
Multi-point analysis and sputter depth profiling within an imaged area
Fully integrated control of optional accessories
MultiPak Data Reduction Software
Data Reduction for XPS and AES
PHI MultiPak is the most comprehensive data reduction and interpretation software package available for electron spectroscopy. The tasks of spectral peak identification, extracting chemical state information, quantification, and detection limit enhancement are addressed with an array of powerful and easy-to-use software tools for spectra, line scans, images, and sputter depth profiles. MultiPak can be used on the instrument PC to process data in real time or on an offline PC for report generation.
Advanced Data Reduction Tools
Auto peak identification
XPS chemical state database
XPS spectral deconvolution
Quantitative analysis
Non-linear least squares fitting
Linear least squares fitting
Target factor analysis
Retrospective chemical imaging
Batch mode data processing
18725 Lake Drive East,
Chanhassen, MN 55317
© 2021 Physical Electronics, Inc. (PHI)
All Rights Reserved.
© 2021 Physical Electronics, Inc. (PHI)
All Rights Reserved.